Through the use of an effective vegetable garden design scheme you will have a vegetable plot to supply most, if not all of your vegetable needs through out the year.
What a lot of people getting involved in the vegetable gardening field don't know is that you have to work at it all year round. You may only be harvesting crops in spring, summer and fall but you will be out in the late fall and through out the winter preparing it for the coming year.
Through the utilization of proper vegetable garden design you will have chores to do all year long and this is turn will reward you hopefully with a bumper crop year on year. Some of the chores that have to be attended to in the late fall / early winter are-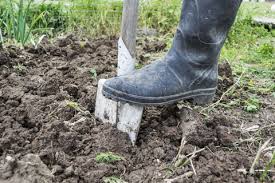 Dig the ground to get hard lumps to the surface – the frost will break it down for you.
Rake up leaves – you can store these in a compost plot (make a frame out of chicken wire and 3 or 4 posts, then pack the leaves into it and now you leave it for a year or so), this will give you mulch for the garden.
If you are planting for a spring crop now is the time to plant your
carrots
Broad Beans
If you have an undercover area now is the time for you to plant
Lettuces
Radishes
If this is not your first year you may have crops which are ready for harvesting, these will include
Cabbage
brussels Sprouts – just in time for the turkey
Lettuce
Carrots
Leeks
Potatoes
Pumpkins – now where's that carving knife?
Radishes
If you are only starting off then in your first winter you are going to be preparing the soil for your crops. The winter brings a time for organization
Get digging – the winter frost will have broken up the large lumps you left in the fall, now is the time to dig them back into the bed. If you have plantings done in the fall you can cover them with polythene or straw to protect them from a frost.
Get all your tools sharp or purchase any new ones you need. This a good time to walk your plot with you vegetable garden design in your hand and picture your crops growing. If this is not your first year then walk your plot and remember what went right and what went wrong in previous years and plan your attack for this year.
As for planting, it is now time to sow your seeds for
Shallots
Rhubarb
Garlic
If you have an undercover area now is the time for you to plant
Leeks
Cabbage – for your summer harvest
Cauliflowers – these are also for your summer harvest
lettuces
Radishes
If this is not your first year you may have crops which are ready for harvesting, these will include
Cabbage
Cauliflowers
Your Broccoli will be sprouting
Lettuce
Carrots
celery
Leeks
spinach
Parsnips
Radishes
Spring
Now we are into the spring and everything is brightening up and with the weather picking up so do the chores round the garden. This is when we start to get everything going.
-You dug the beds in the fall and then again in the winter, now is time to check that they are ready for the seeds.
-cover fragile plants with nettings to protect them from pests.
-check the fall and winter planting for spacing out.
As for planting, it is now time to sow your seeds for
Spring Onions
Radishes
Beetroot
Carrots
Broad Beans
If you have an undercover area now is the time for you to plant
Onions
Peppers
Celery
Indoor Tomatoes
There maybe a need here for nursery beds for being on some early plantings
Brussels Sprouts – the fall plantings
Lettuce
Leeks
Cabbage – both fall and winter
As Spring progresses you will have to
Start the hardening up process for the young plants you had undercover for the fall and winter
Ensure the soil doesn't become dry due to lack of rain
Keep the weeds down by hoeing regularly
Put up supports for climbers
Keep thinning out as you go
planting is still going on, now we have
Cabbage
Onions
Potatoes
Have the spring frosts passed? Good time for the
Peppers
Celery
Sweetcorn
Tomatoes the outdoor kind
Beans
We still need the undercover for
Cucumbers
Tomatoes
One more thing to do harvest your crops
Broad Beans
Leeks
Lettuce
Brussels Sprouts
Cabbage
Carrots
Radishes
Rhubarb
Summertime and the living is easy – sorry just started signing there, getting back to the garden. Even though Summer is a time for harvesting you still have chores to do. These include
Add fertiliser to areas where you are sowing new crops
With Beans and Tomatoes you need to put in supports to keep them growing
keep a look out for pests and diseases and act straight away if you see any signs
This being the hottest time of the year keep watering your crops
Don't forget that some plants like Tomatoes and Beans are repeat growers so pick them as soon as they are ready
Towards the end of summer clear away crops that have finished and prepare the ground for your next planting
Summer maybe a time for harvesting but there is still sowing to do, this will include
Carrots
Lettuce
Onions
Turnips
peas for fall
beetroot
Did we mention that Summer is a time for harvesting, well it is and this includes
Broad Beans
Shallots
Sweetcorn
Tomatoes
Beans
Potatoes
Garlic
Cauliflowers
Beetroot
Now we are back to the fall and it all starts again but now you have a vegetable garden design that works and hopefully you have enjoyed all the work. With time it will all come easier to you as you get used to the routine and the chores won't seem so much like chores.
We moved to the country a few years ago and I got the "grow your own Bug". Needless to say the first time I tried to grow my own crops I ended with a plot full of grass and not much more. Undaunted I did some research and had another go. This time with some proper vegetable garden design ideas I got a good crop and a good bit of exercise and fun, as well as a good tan. Due to the failed first attempt I felt that maybe a lot of people have this problem and don't know here to turn for help. With this in mind I have started a blog to help in the setting up of and maintaining of a vegetable garden.
You can have a look at it for help and advice on your vegetable garden